---
Grazhdanskaya Oborona / Egor Letov - Vsjo kak u lyudej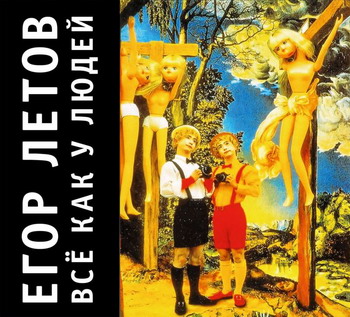 Band: Grazhdanskaya Oborona / Egor Letov
Album: Vsjo kak u lyudej
Year: 1989/2016
Country: Russia
Format: CD, digipak
Genre: Psychedelic Punk
Label: Wyrgorod

Tracklist:

1. Vsjo kak u lyudej
2. Zaplata na zaplate
3. Lobotomiya
4. Poezd ushjol
5. Neponyatnaya
6. Mimikriya
7. Psikhodelicheskij kameshek
8. Nasrat na mojo litso
9. Nikto ne khotel umirat
10. Sistema
11. Obschestvo "Pamyat"
12. Kakoe mne delo
13. Paradoks
14. Vsjo sovsem ne to
15. Kak listovka
16. Beri shinel (Like a Rolling Stone)
17. Russkoe pole eksperimentov (Kak v myasnoj izbushke umirala dusha)
18. Malenkij prints vozvraschalsya domoj
19. Otryad ne zametil poteri bojtsa
20. Svoboda
21. Pro chervyachkov
22. Evangelie

Prodyuser: Egor Letov

Zapisano v GrOb-studii 17, 19, 26, 27 sentyabrya 1989 g., krome:
17, 18 — 29 aprelya 1990;
19 — 12 iyunya 1990;
20 — 23 oktyabrya 1990;
21 — 5 maya 1990;
22 — 13 noyabrya 1990

Peresvedenie i restavratsiya 12-17 marta 2005 g., GrOb-studiya, Egor Letov i Natalya Chumakova.
Mastering: Natalya Chumakova

EGOR LETOV: vokal, gitara
YaNKA DYaGILEVA: podpevki koe-gde
KUZYa UO: el. gitara vo «Vsjo sovsem ne to»

Vse pesni: Egor Letov

Oformlenie: Egor Letov
Vjorstka: T. Bazarov, S. Kashkovskij
Foto: arkhiv GrOb Records. Retush: S. Kashkovskij
Korrektor: N. Novodvorskij
V oformlenii ispolzovana rabota Yasumasa Morimura «Playing with Gods III: Night», 1991

Spasibo: Valerke Rozhkovu, Dimke Logachjovu, Kuze UO, Yanke, Igoryu Zhevtunu, Serjoge Zelenskomu

Proekt voznik pod davleniem okruzhayuschikh (v pervuyu ochered — Yanki), daby zafiksirovat v akusticheskom ispolnenii to, chto v to vremya ya regulyarno ispolnyal na domashnikh, kvartirnykh kontsertakh, v krugu druzej i znakomykh, dlya sebya samogo i t. p. Prichjom zafiksirovat maksimalno adekvatno tomu, kak eto dolzhno byt sygrano i speto TOLKO DLYa SVOIKh. Do etogo na GrOb Records ne bylo zapisano nichego podobnogo vovse (ne schitaya mini- alboma Yanki «Ne polozheno»), ya vosprinimal svojo tvorchestvo sugubo v elektricheskom, zabojnom variante — v akustike zhe igral vynuzhdenno, poetomu ideya sozdat isklyuchitelno prostoj albom pod gitaru, sostavlennyj iz sobstvennykh, uzhe dostatochno izvestnykh pesen, pritom chto oni dolzhny imet samostoyatelnoe novoe zvuchanie i znachenie, ne ustupayuschee ikh elektricheskim versiyam, — eto bylo otchasti riskovanno i uzh tochno zanyatno. Chto-to vrode osvoeniya novoj territorii.
Tak poluchilsya dvojnik «Vershki i koreshki», zapisannyj 16–17 i 19 sentyabrya 1989 goda vo vremya pauz v rabote nad «Russkim polem eksperimentov» i elektricheskimi albomami Yanki «Angedoniya» i «Domoj!». Koe-gde ona pomogala na podpevkakh, a takzhe Kuzma — na elektrogitare.
Bonusami yavlyayutsya vsevozmozhnye demo- versii tolko chto sochinennykh pesen, chasto syrye i nedorabotannye, perioda 1989–1990, ranee ne izdavavshiesya. Albom razbit na dve samostoyatelnye chasti: sobstvenno «Vershki i koreshki» i vtoruyu — «Vsjo kak u lyudej».
Eto — edinstvennoe na tot moment avtorskoe voploschenie akusticheskoj versii «Grazhdanskoj Oborony», s kotorym ya soglasen polnostyu.
Egor Letov, 5 iyulya 2005 g.